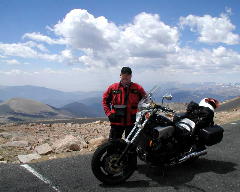 Parking lot at summit of Mount Evans, Colorado. The end of the highest paved road in North America at 14,134 feet.
You have pulled into Mad Mac's rest area. Eplore Forgotten Texas History. Relax and enjoy Odyssey, the story of my 3,600-mile motorcycle trip through the Rocky Mountains in 1998 or my 6,200-mile trip around the western United States in 2003, California or Bust. Join me in the Local Houston Chapter of the V-Max Owners Association.
For spiritual solace on your next ride, print out and carry with you my Motorcylist Prayer. Make your personal ride the best it can be at my other web site, Best-Motorcycle.com. If you are in the mood for a short, romantic, science fiction fantasy, read my Planet of Shadow. For an even shorter terrorist short story filled with love, sacrifice and high explosives read Thrower of the Arrow. If sailing is your interest, check Luger Voyager 30 Ketch.
Email