Operating Instructions for
Robertshaw TS-ll, J&K
Thermomagnetic Safety Valves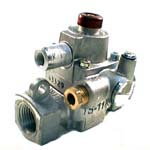 Robertshaw Controls Company has been manufacturing gas controls for more than a hundred years. Their TS-11 Thermomagnetic Safety Valve is found on many boats equipped with galleys and gas stoves or ovens.
An Operating Instructions tag was supposed to be left hanging from the safety valve by the installer. Our tag was still onboard our Luger Voyager 30 built in 1985. If you have lost the operating instructions for your TS-11, you will find a reproduction of our Robertshaw May 1982 Form 43295H below.
The TS11 has been a reliable safety valve manufactured and used without incident for decades, but recent years have seen two, safety recalls.
The first was in 2002 for TS11 valves manufactured between June 2001 and August 2001 with production dates beginning with codes 0124 through and including 0131. The date codes are marked on the backside of the upper housing, below the red button. The lower body may have a thin wall on the bottom of the casting that may break through if rapped causing an external leak and a fire. Fortunately, no injuries have been reported for this recall. http://www.robertshaw.com/recall.html
The 2004 recall has proved to be more serious and involves TS-11 thermal safety control valves produced between February 2003 and August 2004, identified by date codes 0306 through and including 0432. If the pilot light goes out, the gas valve could stick in an open position permitting gas to continue to flow resulting in a gas explosion and fire. There have been 12 reports of flash fires including 9 reports of injuries. http://www.robertshaw.com/2004recall.html